Understanding Residence Orders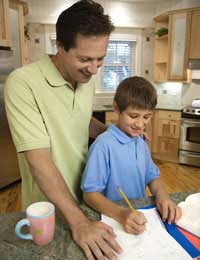 There may come a time – either as the result of a separation or a divorce – where the issue of where and with whom your children live comes to the fore. For this reason, the application for a Residence Order is normally made.
What is a Residence Order
A Residence Order is an order issued by the
Family Proceedings Court
, and details which parent the children should reside with. This order normally provides details of when and where the children can be visited by the parent who has failed to gain residency. Once the order has been granted,
Parental Responsibility
for the children goes to the person with whom the children will be living.
Applying for a Residence Order
You should only apply for a Residence Order if you and your partner cannot come to an amicable arrangement relating to the living arrangements of your children. If this is the case, you should consult with a solicitor specialising in family law, who will advise you on the best course of action to take, and may suggest that a period of mediation is entered into before pursuing the matter through the courts.
Paramountcy
This is the term used to describe how the court will look upon such requests for the issuing of a Residence Order. Paramountcy relates to the importance to the children of where they should live and also what is in their best interests. For example, if the court feels that the children's best interests would to stay with their mother, then they are obliged to issue in her favour.
The most important aspect of any court proceeding relating to the care and wellbeing of your children is what is best for them. This is something that can become a secondary issue if the circumstances between parents is not amicable. Therefore, if your children are old enough to understand, you should discuss the situation with them, and if they are old enough to decide, ask them where they would prefer to live.
Visiting Rights
If you are the parent that the court has ruled against, then you will have visiting rights. This means that between you and your partner you must agree – or the court will make a ruling on your behalf – as to how often and for how long you see your children each day or each week.
It is important that the children have access to both parents and also have the means to contact either parent as and when they wish to. The court may also rule that telephone calls are allowed in between visits in order to maintain some level of continuity.
The most important thing to remember during the application for a Residence Order are the thoughts and feelings of the children involved. You should – at all times – make sure they are aware of the fact that they are not at fault and are not to blame for the circumstances in which they are caught up.
You might also like...
I amm in divorce process since December 2018. I have primary phisical custody and we share legal custody with dad of my baby. Baby is 2 years old. His dad has a visitation 2 times a month. He is living in different city. 4 hours driving from us. I would like to travel with my baby abroad to my native country to see my parents.But his dad doesn't want to give a permission to me to take our son out of country. Do I really need his permission? can Itravel without his permission? What can I do?
Sveta
- 18-Dec-19 @ 9:49 AM
I have two children aged 7 and 10 who haven'tbeen living with me since September 2016 because of the domestic violence relationship drink n my mental health problems at the time since that my grandparents have had my daughter and my son is living with his dad and grandma I'm still currently looking for a stable home to have them back with me but feel like my grandparents keep putting goal posts out and that anything I do is never good enough what can I do to take back the control for my daughter are they aloud to control every aspect or do I go back to court.
Kimmie
- 12-Dec-19 @ 5:01 PM
I need some advice on the residency of my 4 nearly 5 year old daughter. 3 and a half years ago I was thrown out of my house and my Daughter was with my Daughter's father's parents who manipulated me and they took my daughter away from me just because they wanted her all to themselves. The father has custody of my Daughter but now he is living in a mess I've heard from people who went to his house that he has a full kitchen of dirty pots and plates and he's really unclean. I've tried fighting for my daughter but the last court case was on the 1st of March 2017 I couldn't get there due to the snow storm, could someone please help me. I need her out of the place she's living in as it is a state Thank you
Georgie1994
- 25-Nov-19 @ 3:09 PM
My ex the father of my 2 boys took out a residency order without me able to defend myself.He has lied and social have said I am a fit mother and should have them with me which I have had for 11 years.It has been 3 years and my kids hate living with him and want to return home. He stops all contact and phone calls and lies to them all the time. He has tried to get my daughter taken of me forno reason .social services wont get involved because they cant make a case against me because I am a very good mum
Traceyanne83
- 24-Nov-19 @ 9:10 PM
I have a court order and residency order in place. The father has contact in which he allowed to see our son. He has stated to me that he will be keeping the child outside of the ordered contact and therefore not returning child home. If the child is not returned home am I able to ring police to collect son due to court order and residency?Thanks
Molly
- 15-Oct-19 @ 3:10 PM
My husband and I have been divorced since 2016 they live with me permanently we have an amiable where you sees the children when he wants, there's no fixed days. We do however have a dispute regarding me taking my daughter abroad to Kenya for a month where I do voluntary work. He absolutely refusees to allow her to go. Do I have to apply to the courts for full resency to enable me to take her without written consent
Boo
- 13-Oct-19 @ 6:27 PM
My ex husband has a residence order of my son who is nearly 12.my son is upset and wants to see me and I spoke about it to my ex husband who said that he would let me see him , however he never does . Its affecting my son who is aggressive with his siblings due to thinking they are loved more than him and I can't put into words how much pain its causing me.i think I need a judge to decide on contact but i have no idea how to go about it. Please help me.
Kiki
- 8-Oct-19 @ 5:24 PM
My parents have had redensisie of my child and we have always decided she would return to me for secondary school once I was better with my mental health .. that time has come what do my parents do or does she just return home without any court proceedings or do my parents have to apply for court I'm so confused and worried this is going to stop my child coming home to me , I don't kNow what to do can someone help me on how I proceed this as I have to also start applying for schools on my area but at moment she is out of catchment area with my parents
Charli
- 30-Sep-19 @ 6:29 PM
I have a 6 year old son and my baby's dad has a residency order from 4 years ago, does this mean that I have no parental rights for my son as this is what he is telling me and he is also trying to stop my contacts even though I have never been late to a contact. He has already taken away my phone calls to my son and I feel as this is only getting worse
Maddy
- 17-Sep-19 @ 8:27 PM
I have a 7 year old daughter that's father has the residency order for can I apply to get this decision relooked at? I am a mother of two and my oldest daughter is 13 and still lives with me
Amanda
- 13-Aug-19 @ 7:05 PM
i got a letter from a sheriff to vary the residence order granted in favour of the pursuer in 2014 by finding the defender entitled to a residence order
coco
- 11-Aug-19 @ 8:28 PM
I need good advice, my ex partner was granted a live with order for our two children aged 7&11. I have been granted spend time with. My ex (the father) is not providing the care for our children, he is leaving this to his current girlfriend for the day to day running of their life. I am not happy with this arrangement and I believe the father misled the court. He won't tell me his new address and I receive hurtful and spiteful messages from himself and his partner. Our children want to spend equal amount of time with their mum and dad. How can I appeal this court decision?
Piseag
- 10-Aug-19 @ 2:11 PM
I was hoping to get some advice. My ex has a residency order for our 2 children. A few months ago our daughter decided she wanted to come back living with me which we both agreed on after speaking to authorities also. The issue I have though is he is refusing to cancel his claim for tax credits for her and with 3 other children here I'm finding it difficult to be able to get the essentials for her. She has outgrown most things that she came with. I do work and he doesn't. He is now saying that if I add her to my claim then he will keep her at his which will mean disruption to her school after she transferred once already. What can I do?
gina
- 3-Aug-19 @ 7:46 PM
Hi. My nephew currently stays with his nana as she has a residency order. She had a stroke recently & is now saying she is un able to care for him. Is there anyway she can sign his residency over to myself.
Boo
- 25-Jul-19 @ 4:07 PM
My partner and myself split 5 years ago, he hasn't seen my daughter in 2 years and refuses to answering anything regarding my daughter who is now 13 and has ASD. I no longer have any details of his whereabouts but recently contacted his mum as my daughters passport is up for renewal, he is now refusing to sign the relevant paperwork! Where do I currently stand on this matter? Thanks
Mum
- 12-Jun-19 @ 11:09 AM
Added on from previous message I have had 5 year old since he was 2 and the residency order started February 2017.
Hello I have recently split with partner he has 3 children who I have bought up for three years. He is stopping me seeing them. There is a court order in place that states the children live with me and him as there biological mum neglected them. Do I have any rights to see them? The youngest is 5 so had him since 3 he sees me as his mum as knows no different.
I am the father of an amazing 4 year old boy who spent his first 2 years with his mother. In those 2 years, mother did everything & anything you wouldn't want your child to go through - attempted suicide, ran away abroad, drug abuse, domestic violence.. until she was arrested but not charged. They had found drugs hidden under my sons cot, drugs in the apartment, blood everywhere & smashed items etc. due to gang member boyfriend. In these 2 years, social services noted all of these concerns but were still convinced on giving mum a chance to redeem herself countless times (I'm a young father & I didn't know my rights). I found this ridiculous & fought for custody of my son since he was born as I knew I could provide a more stable, loving home. My son has been living with me for 2 years now & mum accepts this but can be spiteful at times. She has been very inconsistent with contact over the two years I've had my son (went 6months without contact & decides when she just doesn't want to turn up), she had supervised contact for a year & a half, & now can only take my son out locally near where I live; she hasn't contributed at all financially & even asked me for money to take our son out & for cabs back home! I declined. When the situation was flipped & my son was in her care, I paid her weekly into her bank account. I've been nothing but amicable, never resorting to any negative behaviour. I've been overly accommodating. I now have a massive work opportunity abroad & im scared to just go for it & do it. I don't know the legal implications of it. I do know we still have equal parental responsibility because I haven't been to court. No residency order. I have countless evidence of negligence & ill care from mums part from social services & other bodies. She has an extensive criminal record. Every written document advises my son to live & be with me & that mum isn't to have him overnight. My worry isn't applying for a residency order, as I'm certain I'd win that. It's the visitation part that would hold me down to being in the UK. I'm only saying this as I honestly believe that taking this opportunity, for myself & my son, would be life changing for us & I know for a fact that the lack of contact with his mum (which is already rare anyway) would not have a negative affect on him. This isn't me trying to take him away from his mum but it's come to a point where I have to weigh it all out & ive already decided in my head what is best. Any advice or help with what I should do?
youngfatherldn
- 29-Apr-19 @ 8:54 AM
My granddaughter is 6 and for 1st 2 years her father wasn't interested. He then has been having access but always changes plans on the day and disappointing granddaughter. My daughter told him to go to solicitor to sort out access legally but he hasn't and he not been in touch to see bairn.My daughter is getting her will written up and will be staying I have custody if something happens to her. I have my granddaughter every day plus holidays. I been told I need to apply for residency order? Is that now or after event something happens to my daughter?
Endo
- 28-Apr-19 @ 2:52 PM
Hi just a quick question. If a court has made a residential order for a child in a court order and the court order is not in place no more does that still mean the child has a residential order to stay where they are or does it mean the residential order is not in place aswell. Thanks
Jackp
- 23-Mar-19 @ 11:08 PM
Hi, I hope you can help. My daughter has lived with me (dad) for a few weeks short of 10 years, under a residency order granted by the court as her mother was going through a troublesome period in her life. My daughters siblings were also removed from mum at the same time. My daughter was 5 when the order was granted and I have done anything and everything possible to ensure they have maintained contact and regular visits including doing the lionshare of the travel to drop her off and pick her up, but she has now stated she wants to return home to Mum - her siblings have also moved back but they are older (21 & 16 respectively) Whilst it breaks my heart that she wants to move back to her mum's,I dont want to stop it from happening if its what she really wants as I dont want her to be unhappy. Through lots of tears and talking - it is what she wants. I don't know what I/she/we can and can't do. Do we have to go to court to have the order overturned ? I appreciate any help, guidance or advice you can give me Many thanks
Kilo
- 19-Mar-19 @ 9:11 PM
Hi there. I'm in need of some advice. My partner ex has residency of their daughter and there is a contact order in place as his ex was making contact difficult. They both had PR. My question is does he need to get consent from his ex to take their child on holiday in the uk? Or to take her away for one night? We are aware we do, if we are going aboard. Also, can she take her on holiday for a month, if it effect my weekend contact? Thanks in advance
Lozzer
- 13-Mar-19 @ 9:57 PM
I left my husband in July 2018 after him and his parents were so controlling; I lost family and friends! I'm now living in a two bedroom house which is close to school, and I'm a teacher with a steady income. However, when we tried having the children at shared time the children were moving from house to house every couple of days. Unfortunately, I played into my ex's hand, and said this is not good enough, for short term they could stay with him in the week and I have them at the weekend! But this is not ok, because when he is at work his parents are bringing up the children and he is not even there! I'm more able to give them a steady life but he is completely refusing and I'm afraid I will lose them! Is going for a residency order my best chance?
Chaz
- 22-Feb-19 @ 7:20 AM
Hi. I got a residence order for my son 7 years ago after his mother was in a bad place and was no longer able to meet his needs. He is now 11 and went with his mum this weekend and she has now refused to give him back as he has stated he wants to live with her. I called her this morning and she said she was filling out the court forms. I said this was fine but I want my son returned home until we have a court date. She refused and said he didn't had to come home if he doesn't want to. Please can you advise where I stand with this
My son turned 16 last December and has been living with me for a month now. His father has a residence order and is saying he can't move out. But my son doesn't want to go back as it's more easy for school and his social life with me. His father is saying he has to be 18 to decide. Do I need to apply for a residence order myself as it's in the best interest of my child?? Help please
Mum
- 24-Jan-19 @ 10:14 PM
Hi my children's father was granted a residency order 2 years ago. I have serious concerns for my children with as far as my child alleging violence impacted on them. I'm scared to go back to court. I am only allowed to have my children if I am single if I am in a relationship he refuses because he loves me still. So I can't live a normal life for myself. Can I run away to another country. What would happen if I do this?
Sophie
- 7-Jan-19 @ 1:08 PM
Me and my ex split up July 2017 well he kicked me out after I was doing a few bad things and we have a now 6 year old daughter a year and half on I am not the same person but he took me to court over her last Nov for residency which I didn't want him to have as I wanted to see my daughter more then once a week and once I was back on my feet have her stay over but he said he would go to court and wrip me and my family apart if I challenged it so he got residency and on the paper I see her at least once a week which I do and ring her every night but when it comes to special occasions Christmas birthdays etc he holds all the cards according to him I can't go to her school to pick her up or even have her over night etc and I have been told from a friend this week he was commented on saying she lost her daughter the day she went to court I miss my little girl so much and I want to be in her life more but he has me at arms length over everything with her I just need some help to understand where I stand with everything when I ring he doesn't say right mummy's ringing at such a time so be ready no i ring and if she's on her tablet or something he won't do anything he isn't working with me on anything with her I feel so powerless and scared I miss her so much but he is so crafty with how he is his family won't notice it like her birthday he arranges everything and I turn up he won't let me help plan it for her or Christmas parties at school etc he does everything I have no say on anything she keeps asking me to stay over in my new 2bedroom house I have now as I had a flat before 1 bedroom with rats it was awful so now here she has her own room and he still says no I'm thinking of going back to court to get more visitation rights etc but when I say I think we should he says yeah you do and I'll go for full custody and I'll beat you every step of the way
Debs
- 3-Nov-18 @ 7:37 PM
Hi I wanted some advice please me and my husband have been sperated for 3 years I will be apply for residency for my 2 children. I wanted to know will that affect the child maintence he gives me
Sarah
- 8-Oct-18 @ 5:56 PM
My daughter is going to court for a residency order the social services and her ex and his mother are trying to stop her from having any contact with her kids. she has had to stop the kids from going to the grandmothers where there father lives until after the court case because he will not bring them back and has told her she can only see them once a week. There is no court order and it is my daughter that is taking this court not social services. My daughter has a long list of police reports against her ex for all forms of domestic abuse. The social services have ignored everything he has done and coached him every step of the way because his family are high up in the council. The social worker wants to know her solicitors name and she is reluctantto give it to her as we do not trust them does she need to know his name because these people have power influences. Her ex and family have no emotional connection to these kids at all.
Reyna
- 4-Oct-18 @ 10:32 PM
Emma - Your Question:
If one parent is awarded full residency, does that take away the parental rights of the other parent? Can the parent with full residency change the child's name by deed poll if he/she remarries or emigrate without other parents consent
---
Our Response:
No, just because a parent has full or majority care of the child does not mean the other parent loses parental responsibility. The other parent will still have a say in important issues such as name changes, moving home/school etc.
LawAndParents
- 18-Sep-18 @ 3:25 PM