The Rights of Children Under Employment Law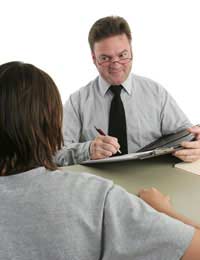 If your child wants to take on a paper round or a Saturday job, you should be aware that laws are in place designed to prevent the exploitation of children.
At What Age Can My Child Work?
Your child can engage in part-time work from the age of 13 unless they are working in the areas of theatre, television or as a model when the law is slightly different. Once your son or daughter has reached the Mandatory School Leaving Age (MSLA) of 16, he or she may apply for their National Insurance ID number and commence work on a full-time basis.
Performance Work
Your child will need to have a performance licence – which is granted by your local authority – if they are working in the areas of theatre, television or as a model. It is required by law that the local authority mediates with your child's headteacher and ensures that such activities will not have a direct impact on their education.
Your local authority may enlist the services of a chaperone who will ensure that your child adheres to the laws laid down and also keeps up to date with his or her school work.
Employment restrictions
There are restrictions that apply to children employment in the UK. Those under the age of 16 cannot work:
Before 7am or after 7pm
During school hours
Longer than 1 hour before school (if local byelaws allow it)
Longer than 25 hours per week during holiday times
Longer than four hours without a one hour break
Longer than 12 hours in a school week, during term time
More than 5 hours on a Saturday during term time or week day during school holidays
Similar limitations apply to 15 and 16 year olds, but they are allowed to work for up to 35 hours in any week during the school holidays

During the school holidays your son or daughter may work up to 35 hours a week if they are 15 or over, which consists of up to eight hours Monday to Saturday and up to two hours on Sundays. Any hours over and above this and your child – and their employer – are breaking the law. They are not obliged or allowed under employment law to work for any longer than this.

If you child is aged between 13 and 14, they can work up to 25 hours a week (during school holidays), which includes up to five hours Monday to Saturday and up to two hours on Sundays.

Rates of Pay

Your child should expect to receive no less than the National Minimum Wage. However, there is no minimum wage for children under 16 years of age. The national minimum wage for children age 16-17 is £3.79 per hour; at age 18 to 20 they will receive £5.13 per hour; from 21 years of age they will receive £6.50 per hour.

If your child is a part-time employee and a student, they will not be required by law to pay tax on their earnings.

It is worth noting that if your child is undertaking work experience then he or she does not have to be granted a permit to do so by their local authority. To find out more about the types of job your child can undertake, contact your local authority.

You might also like...