Can we Stop Our Father's Visitation Rights to See Us?
By: Lorna Elliott LLB (hons), Barrister - Updated: 30 Mar 2018
|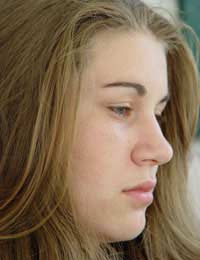 Q.
I am 15 years of age. My mother and father were married for a little less than 12 years. I went through almost every kind of abuse there is, while my siblings had a front row seat to watch my dad tear into me with everything from a belt to a barbeque. My parents went through a divorce about a year ago (thank God) and now he gets to see us every Sunday for 5 hours, and it scares me to death. I dread every Sunday I have to see him. I don't believe he should get the privilage to see us at all.
I still have nightmares about all of the terrible things he did to me. I am a child and I should be allowed to enjoy my youth without the constant reminder of the past. How can I make it so that me and my siblings to not have to see my father?
(A.H, 8 July 2009)

A.
I was very sad to read about what happened to you at the hands of your father, but it sounds as though you are trying to come to terms with it. It is extremely important that you understand that what has happened to you is not your fault, and you don't deserve to be scared or to be made to feel afraid by your father.
Your Best Interests
The court will always take into consideration your wishes, first and foremost, and will do what it considers is in your best interests. Normally, the family court thinks that parents and children should be in contact with one another, unless there are exceptional circumstances (which it sounds like there are in your case).
Order for No Contact
What happens now will depend on whether there is a court order in place to allow your father access to you and your siblings. If there is a 'contact order' in place – i.e. a court ordered that your father should be given access to see you and your siblings, rather than the contact between you and your father just being an informal arrangement between him and your mother – you are very likely to have to go back to court to explain why you want an order for no contact.
The court always takes into account your welfare over the rights and wishes of either, or both, of your parents. However, it is unlikely that you would be able to speak on or behalf of your other siblings. Remember the court will also consider what is in their best interests as individual children, too.
Speak To Someone
If you refuse to have contact with your father, he is very likely to want to know why, so I would suggest you speak to an adult you can trust before you do this. If you don't feel as though you can talk to your mother, you could telephone The Children's Legal Centre (www.childrenslegalcentre.com) who have a dedicated free phone number especially for young people: 0800 783 2187. They will be able to help and advise you further on your particular circumstances.
You might also like...
Dee- Your Question:
Hi I would like to know if my 9 and 11 year old daughters refuse to visit their dad do I have to force them to go? there is a court order in place but we're due to go back to court in April.What are my rights do they have to go or will I get into trouble if I allow them to stay with me?
---
Our Response:
If there is a court order in place you should really abide by it and apply to the courts if you want to amend/adapt the order.
LawAndParents
- 3-Apr-18 @ 11:07 AM
Hi I would like to know if my 9 and 11 year old daughters refuse to visit their dad do I have to force them to go? there is a court order in place but we're due to go back to court in April. What are my rights do they have to go or will I get into trouble if I allow them to stay with me?
Dee
- 30-Mar-18 @ 2:16 AM
We are looking at emigrating to Australia. My son will be 16 years old. His father and I are separated & his father also has parental responsibility (plus a contact order). Can my son choose to emigrate without his dad's consent or would we have to apply through the courts if we can't get his dad to agree?
Son77
- 22-Oct-15 @ 10:18 PM
@George. You can go back to the courts if the order is regularly being breached. If the mother wants to vary the hours etc, then she too will need to go to the courts to have the order adapted. Unfortunately at the age of 13 friends do often come first, the easiest way to handle this is work around it so that she feels she can invite friends when she's at your house. Also make sure she knows she can visit friends and you'll pick her up etc.
LawAndParents
- 23-Jun-15 @ 2:36 PM
I have a 13 year old daughter that lives with her mother. Her mother and i split up when our daughter was 4 years old and i had to go to court to get a court order to get contact with my daughter. I'm supposed to have my daughter stay with me fortnightly from Friday 6pm to Sunday 6pm and also get to see her every Wednesday. A few weeks ago my daughters mother told our daughter that she doesn't have to come to mine for weekends if she doesn't want to and since then my daughter has been thinking she can pick and choose if and when she comes for the weekend. I now find myself in an impossible position where if i to insist that she stay with me i just end up turning her against me and if i let her have her way and decide if and when she comes then she just gets funny with me and uses it against me to get her way. My daughter believes that she can do what she likes as far as contact with me is concerned and her mother just says that our daughter is 13 and can make her own mind up and that she cant do anything about our daughters decisions. So what i would like to know is this - Is there an age of the child when the court order no longer applies? My daughters mother says she cant make our daughter come to mine. If she does not make our daughter available for contact is she in breach of the court order if our daughter doesn't want to come? the reasons my daughter has given for not coming to mine are because she wants to see her friends, but this has been put in to her head by her mother who told her she could choose. A couple of weeks ago i went to see my daughter for my Wednesday visit and when i got there my daughter was not there, her mother said she didnt know where she was yet when i phoned my daughter she told me her mother did know where she was and had told her she could go out if she wanted. If the court order is being breached, what can i do to get it enforced? If i go to collect my daughter this weekend and my daughters mother was to refuse to let me have our daughter is that something that can be enforced by the police or do i have to go back to court?. Any advice would be greatly appreciated.
George
- 18-Jun-15 @ 10:20 PM
@angel. Unfortunately we can only comment on the UK laws. In the UK you would be expected to gain the consent of the father only if he had
parental responsibility.
LawAndParents
- 21-May-15 @ 2:37 PM
Good Day I'm from SA and I really would like some advice please I have a child from a guy who left me when she was only a month old and we weren't married but he's on her birth certificate but she's registered under my surname not his we not in contact and I would really would like to know if I can change my daughter surname without the father premision even if she's on my surname when I get married my daughter is now 16months old Thank You
Angel
- 19-May-15 @ 12:10 PM
@louis. Is there any way you can work with the father to allow contact while you're present at first? Or perhaps with another family member? Does she have any cousins for example on her father's side?
LawAndParents
- 5-Dec-14 @ 11:46 AM
Can anyone help , after going to court ,seeing cafcass , and doing the contact centre my daughter aged 12 is still refusing to see her father . He is now taking me back to court again .i have been told that I have to make her see him , is there anything I can do ? She gets upset and refuses this is having a emotional effect on her
Louis
- 3-Dec-14 @ 9:59 PM
I have been going through a Family court case fir 15mnths, since my infants dad applied for a contact to see his child regularly again. Supported by his parents doing all the physical stuff, esp food prep and toileting. he applied four months after i stopped contact at his parents house, as our child got more and more distressed each visit. Said he didn't like it and didn't want to go. At just two and a half. And they carried on abusing alcohol and neglecting his needs and routine etc. dad abused me physically and mentally. Especially after our child was born.. From the day we left the hospital and we returned to his house, where we lived as a family. he bought a sports car, like the last time i stopped contact. When we left him. Money and status always came first. He refused to see our son when he had all wk to study for a higher grade through work. Fir more money. I found out mnths ago that he was lying about his job title to the courts and the csa. I reported it. But he cant have been charged. Ir ibdoubt he wouldn't pay for the court case. he didn't disclose dv or neglect of our child but admitted to three assaults on me. Esp when he put a pillow over my face, when i was half asleep. cafcass are lying about what the school said. As at home, my sins behaviour had changed since contact. The head is supportive. She is v empathetic but wouldn't conmut herself to saying that it def was fault if contact. Even tho she said un a meeting that it was. Everyone is lying. Esp my solicitor who takes upto a week to return messages etc. supervised contact nites are good, in the first sessions but after that.he was late 2/3 times. The notes don't say much if what he said to our boy. There is little communication, to develop a relationship.. His mum sorts the snacky tea i requested he bring. He doesn't even nip to Tesco for a sw i asked him to get, via the spervisor. Last time he turns up with food that needs to be heated up. He is constantly playing mind games. His whole family are doing what they had always done. . Belittle me and refuse to abide by my usual recommended choice etc. They always though their care methods were better than mine. Even though in his only reg carer. Ive never understood why. Its very strange. They also thought that once a child is walking. They can follow you, nit you there's. Them being first priority. Also very strange. But even my solicitor cant get that they, he is playing games. But she is trying to get the cafcass officer to chat to our son about his dad. I just hope he repeats what hes said to me. That he doesn't wana c dad COs he remembers badstyff at his house. He doesn't want to see hum in his own. He knows it wouldn't be safe as he left him alone in the house, un the car and burnt his legs, wouldn't give him meds and got drunk in his/parents care. hes on bail for ABH to me. Hes admitted to on paper. The worst assault was ibfrint of Ethan, as a baby. And again before i left and took as much furniture
formyson14
- 1-Dec-14 @ 11:47 PM