Dismissal Because of Pregnancy?
By: Lorna Elliott LLB (hons), Barrister - Updated: 25 Dec 2014
|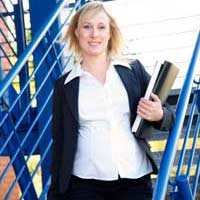 If you have been dismissed from work, or have been treated unfairly because of your pregnancy, you may feel as though you have nowhere to turn. Although it may not come as any kind of comfort to you, you are by no means alone. The Equal Opportunities Commission have undertaken research into this specific area and have found, shockingly, that at any one time more than 7 in 10 pregnant women were being treated unfairly at work – but are just putting up with it.
What To Do If You Are Dismissed
If you find out that you are pregnant and are then dismissed from your employment as a result of your pregnancy, you can take your employer to an employment tribunal for unfair dismissal. The law in the UK stipulates that it is unfair for women to be dismissed from work because they are pregnant. It does not matter whether you have worked part-time or full-time for your employer, and you don't have to have worked for your employer for a minimum period in order to be able to bring a case to tribunal.
Unfair Treatment Because of Pregnancy
However, it is not always as straightforward as this. You may feel as though you have been treated unfairly as a result of your pregnancy. For example, you may be overlooked for promotion or be treated in some other detrimental way, but not actually lose your position. In these circumstances, you should try to stay calm and follow an appropriate procedure.
The steps you should take are as follows. In the first instance write to your employer, explaining why you feel as though you have suffered as a result of your pregnancy. You should give them four weeks to respond to your letter. After this, have a meeting with your employer to discuss the issues you have raised. Finally, if you are not happy with the decision of your employer, appeal against it.
Appealing to an Employment Tribunal
There are essentially two claims you can make against your employer at an employment tribunal in these circumstances. The first is for unfair treatment because of your pregnancy and the second is because of sex discrimination. However, it is very important to remember that before resorting to an employment tribunal you ensure that you have properly and fully followed the complaints procedure of your particular employer. Failure to do this could mean that the tribunal reduces any award of compensation that it would otherwise have seen fit to order.
Unfair Treatment Because of Pregnancy
In order to prove this claim, which is made under section 47 (c) of the Employment Rights Act 1996, you need to be able to demonstrate that the reason your employer subjected you to detrimental treatment was as a result of your pregnancy. Claims under this Act are capped at approximately £55,000-60,000, and you cannot claim for injury suffered to you as a result of 'hurt feelings.'
Sex Discrimination As A Result Of Pregnancy
This claim will be brought under section 1 of the Sex Discrimination Act 1975, and you will be required to prove at tribunal that you would not have been dismissed or treated in a detrimental way if you had not been pregnant. Claims for compensation under this Act are unlimited, and you can also claim for injury to your feelings.
Pregnancy Dismissal And Maternity Rights
If you have been dismissed as a result of your pregnancy, you are still entitled to your other
Maternity Rights
. This means, therefore, that your ability to receive statutory maternity pay is not affected, and nor is your right to return to work. If you are on maternity leave when you are dismissed, you have exactly the same rights as you do during your pregnancy.
You might also like...
I have been made redundant several days before my probationary period expired at 31 weeks pregnant. I was informed verbally and informally by my direct manager 1 week before a 'meeting' was held between HR and me informing me of the potential for redundancy. I requested reasons in writing but this request was denied but provided verbally during the meeting, which I noted. I was. There was then a second and final meeting on 24th in which I was officially terminated with 1 weeks notice, which I was asked not to work. I officially appealed the decision in writing on 24th upon receiving the termination letter. I am the only employee being made redundant in a restructure of the company. I have unofficial correspondence between management as my manager logged into my computer one afternoon and then left the office on personal business, these messages state as long ago as September that he does not like me, regretted hiring me and sought confirmation from HR as to my probationary period, and that he suspected that I was pregnant and had a bet running with another male employee to that effect. There are other minor elements as well, such as not being provided the mat leave policy for the company, not taking antenatal appointments during work hours etc.
OmFahed
- 25-Dec-14 @ 4:17 AM