Understanding Parenting Contracts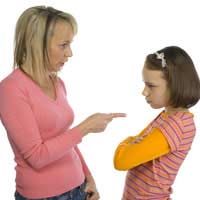 There has been much debate in recent years about the introduction and enforcement of Anti-Social Behaviour Orders and Acceptable Behaviour Contracts, which are designed to deal with the anti-social behaviour of minors. More recently, however, the emphasis has shifted slightly to include ways in which the parents of children who are involved in anti-social behaviour can also be included in any punishments or orders imposed to reduce this behaviour.
What is a Parenting Contract?
A Parenting Contract is a voluntary agreement entered into by the parent or parents of children who have been found to have committed acts of anti-social behaviour in and around their community. These Parenting Contracts – which work alongside Acceptable Behaviour Contracts (ABCs) – are designed to incorporate the parents in any rehabilitation and prevention of such offences occurring again.
Who Issues a Parenting Contract?
A Parenting Contract – as we have already touched upon – is a voluntary agreement and as such the parents cannot be forced to enter into such an agreement. However if their desire is such that they wise their child or children to cease their anti-social activities then most parents actively enter into a Parenting Contract alongside their children who will be governed informally by the rules of an Acceptable Behaviour Contract (ABC).
This Acceptable Behaviour Contract – as well as the Parenting Contract – is drawn up by several agencies including the Youth Offending Team (YOT), local authority and Local Education Authority.
What is the Purpose of a Parenting Contract?
Fundamentally the basis for issuing a Parenting Contract is to try to find a common ground upon which the aforementioned agencies and parents can work in order to reduce their child's chances of re-offending. With this in mind a parent may enter into the agreement on the understanding that he or she – or both parents depending on the circumstances – may attend counselling sessions or Youth Offending Team meetings to discuss their child's behaviour.
Also included in the Parenting Contract can be a clause which stipulates that the parent must ensure their child or children is regularly attending school. Truancy forms a large part of the problem when it comes to Anti-Social Behaviour as it is during the time when children should be in school that they commit offences of an anti-social nature and are often observed in areas where they should not be.
A Parenting Contract may also include – as it works in conjunction with an Acceptable Behaviour Contract (ABC) – a clause that states the parents of a child or children involved in such behaviour must be under what amounts to a curfew. If a child is found to be at a specific location when he or she is not supposed to be there – and is also found to be there past a designated time – then not only will the children be held to account but so too will the parents.
Overall the premise of a Parenting Contract is to ensure that a child or children under an Acceptable Behaviour Contract is supervised correctly and that the parents are actively upholding their end of the agreement which is to ensure that their children cannot and do not commit any further acts of anti-social behaviour.
Parenting Contracts and ASBOs
You should be aware that an Acceptable Behaviour Contract (ABC) is a voluntary agreement entered into by your child or children and the Youth Offending Team, the police and the local authority. If this agreement is broken and continually so then these authorities can move to the next level – which is to take the matter before a magistrate with a view to issuing an Anti-Social Behaviour Order (ASBO).
With this in mind it is your responsibility as a parent – particularly if you have entered into a Parenting Contract – to ensure where possible that your children uphold their end of the Acceptable Behaviour Contract and remain out of trouble for the duration of the agreement and beyond.
You might also like...
Who can put in for a residence order when the court has placed a child arrangement order
Julie Mannion
- 29-Sep-14 @ 8:05 PM