Minors And Contracts
By: Elizabeth Mugan BA/BSc, PGDipLaw, BVC, CIArb - Updated: 11 Nov 2019
|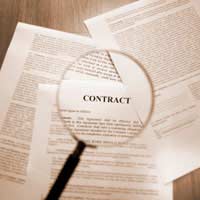 We enter into contracts on a daily basis without even realising it, such as when we purchase a bar of chocolate from a machine. There are, however, some bad bargains made and it is useful to know your child's responsibilities when they enter into a contract.
What is a Minor?
A minor (or child) is defined as a person under the age of 18. In order to create a legally binding contract, there must be an offer, acceptance and consideration, which is most commonly payment. The law presumes that children under the age of 7 do not have the power to make contracts.
A minor between 7 and 18 years of age can therefore enter into a contract. There is a presumption, however, that they do not understand the implications of entering into the contract. This means that the minor remains protected, to the disadvantage of the other party. The minor is also able to cancel a contract at any time before reaching the age of 18, and for a reasonable period afterwards without valid reason as the contract is 'voidable'. Although generally minors are protected, some contracts are not quite so straightforward and there are exceptions to the rule.
Employment and Contracts of Service
One exception relates to contracts of service for employment, apprenticeships and education. The reason for this is so that businesses have some certainty when entering into contracts with your child, particularly where they benefit and can start to earn a living. These contracts are potentially binding as long as they benefit your child. But it will always be subject to your child being able to understand the implications of the contract. If not, the contract will be void.
Even if a contract is beneficial to your child and considered as binding, a court may not be able to enforce it as they cannot force any person to keep a personal relationship as a matter of public policy. The only remedy available in this case would be damages for breach of contract.
Necessaries
Another exception to the rule is that your child is bound to pay a reasonable price for any 'necessaries' accrued from a contract. Necessaries are defined as things without which a child cannot reasonably exist, such as clothes, food, etc. The higher your household income, the more likely the courts would rule that something is a necessary.
Property
If your child acquires property with obligations attached to it, such as leasehold or shares in a company, they are bound by those obligations until they no longer own the property. Again, your child may 'void' the contract by repudiating it at any time before 18 years of age or in a reasonable period afterwards. They cannot, however, recover monies already paid under the contract unless there has been a total failure of consideration by the other party.
Restitution
If your child enters into a contract and acquires goods, and the contract is not enforceable against him, the other party cannot sue for the price or damages against your child. However, under the law, an innocent party can seek some remedy against your child. The courts can require any property acquired under the contract to be given back if it is 'just and equitable to do so'.
So, for example, if your child entered into a contract for new bedroom furniture and did not pay for the goods, then if the contract was unenforceable, the courts may still decide that your child should give the furniture back if you are not prepared to pay for them and they are not classed as 'necessaries'. This was put in place to stop minors from entering into contracts and not paying once goods had been delivered.
Guarantor
When your child enters into a contract, you may be asked to be their 'guarantor'. The most common circumstances where a guarantor may be required are if your child was to purchase a car on finance, borrow money,
Take Out A Mortgage
or rent a place to live. If you become a guarantor for your child, then you are guaranteeing to carry out the contract either for your child or in the event that your child does not carry out what they have promised to do.
In such a case, a contract will be enforceable against you and not your child. This may occur if your child defaults in a car finance payment, which results in you being obligated to make the payment in place of them. Make sure that before you enter into an agreement as guarantor, you read all the terms and conditions and seek legal advice if necessary.
You might also like...
I have booked a coach to reading festival, i am 17 and the company is a fraud And won't refund any of the money I have paid, what do I do?
this needs to stop once and for all no more
peyton
- 12-Apr-16 @ 9:40 PM
Hi my thesis about recognizing the rights of incapacity persons is England Please help me to do just like a book or an article, and so I could write her thesis ... Many thanks
yahoo
- 12-Nov-15 @ 1:36 AM