Medical Treatment for Young People
By: Lorna Elliott LLB (hons), Barrister - Updated: 24 May 2011
|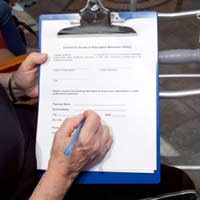 If your child is about to undergo medical treatment, you may want to know what your child's rights are and what your rights are as a parent or guardian. In most cases, it is necessary for doctors and other medical professionals to get consent before treating or examining a patient.
In order to provide what is called 'informed consent', a patient must be given all the information regarding the medical treatment or examination, they must be able to understand the treatment and to be able to make a decision about it, and to provide their consent voluntarily.
While it may be helpful for a child or young person to discuss their medical treatment with a parent or Guardian, they may decide not to. If this is the case, the doctor must respect patient confidentiality. There are only limited exceptions to this, which are in the interests of child protection or if the failure to tell the parents could amount to significant harm to the child or young person.
When Can A Child Consent?
It is generally accepted that a child aged 16 or over will have the ability to consent to medical treatment. This is not of universal applicability, as not all children of this age will be able to provide informed consent. In these situations, the parent can provide consent. This can also be provided by a guardian or someone with
Parental Responsibility
.
There will be some incidents in which there is no time to obtain the consent of the parent because of the urgency with which medical treatment is required. In these circumstances, a medical professional can argue that this is necessary to prevent the child from the risk of (or actual) significant harm.
A child under the age of 16 can provide informed consent but this is not always the case. In law they are not automatically provided with the right to consent. Each case will be decided on its own facts, bearing in mind the maturity, understanding and intelligence of the child.
Is There A Minimum Age For Consent?
In short, no. There is, however, a presumption that a child under the age of 13 is unlikely to be able to consent of their own volition without involving either a parent or guardian. If a child is misusing drugs or alcohol, or suffers from mental illness that is intermittent, they are unlikely to be able to provide informed consent.
If You As A Parent Disagree With The Doctor
If you do not agree with the doctor's advice, you can make an application to the court to determine what is in the best interests of your child. In emergency cases, a decision from the court can be obtained very quickly. In the event that the parents disagree with each other, a court order can also be obtained. It should be noted that usually the consent of only one parent is required in order for a medical professional to proceed with the treatment.
The court will consider the following factors in making a decision:
The child's wishes and feelings
His or her age, sex, characteristics and background
Any risk of harm or any harm suffered
His or her physical, educational and emotional needs
The effect of any change in circumstances on the child
If The Child Disagrees With His Or Her Parents
In these circumstances, if the child is deemed mature enough and able to make their own informed decisions, the parents cannot interfere with his or her wishes.
It is possible for a child to refuse medical treatment, but in the event that the treatment is life-saving this will often be decided by the court (if deemed to be in the child's best interests).
You might also like...