Can I Be Arrested For My Child's Behaviour?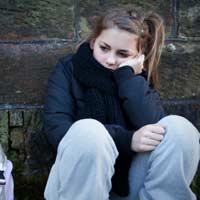 In today's society, it is important to consider what the ramifications are if your child's behaviour is not up to the standard that the law deems appropriate. With this in mind, there is also a great deal of scrutiny levelled on the ability of parents to keep their children in check, and also to ensure that their behaviour does not bring them under the gaze of local authorities and the police.
Can I be arrested for my Child's Behaviour?
While you can't be arrested for your child's behaviour, you can held accountable by law and as such are liable to face proceedings which involve the issuing of an
Anti-Social Behaviour Order
or a so-called Parenting Order (also known as a Parenting Contract).
It is deemed difficult in the eyes of law to prove whether or not a parent is directly responsible for their child's diminishing behaviour, but the law does have a duty to rule as to whether a parent can make a substantial contribution to their child's behaviour improving. With this in mind, the law seeks to ensure that parents accept responsibility for not only their child's behaviour but also knowing the whereabouts of their children, and making provisions to ensure they are attending school.
Truancy
Truancy is considered a large part of the diminishing behaviour a child might suffer if they fall into the wrong company or simply misbehave in order to gain attention. If a child does not attend school for a set period of time – which is determined by the Local Education Authority (LEA) – then the parent can be held accountable and can be asked to appear before a magistrate who may issue a fine.
At the present time a fine can be anything up to £2,500. Failure to pay this fine – and indeed failure to ensure your child's future attendance – can result in a custodial sentence being handed down. Likewise, if a child is excluded from their school you can be liable to pay a fine if your child is found to be in a public place without supervision in the first five days after the exclusion.
Anti-Social Behaviour Order (ASBO)
ASBOs are handed down to an individual whose behaviour is such that it causes distress to others and also damage to the property of others. Regardless of age, ASBOs can be given to any individual whose behaviour is deemed wholly inappropriate. An ASBO may be issued if a child's behaviour includes damage to property, racial abuse, harassment, criminal damage, and assault and vehicle crime. The list is a long one and continues to grow as the authorities – in conjunction with the government – seek to curb the instances of grossly inappropriate behaviour by children.
Parenting Contracts & Orders
Parenting Contracts and Orders are a relatively recent addition to the fight against anti-social behaviour caused by children. A Parenting Contract is a formal agreement entered into by the parents of a child who has been shown to be causing a nuisance as a result of their behaviour and a
Youth Offending Team
. A Youth Offending Team is made up from members of the local police, social services, education authority and, in some instances, church groups.
This Parenting Contract is designed to assist both parents and child as they attempt to overcome the results of their child's adverse behaviour. It may contain details of Curfews to be met, programmes of rehabilitation that must be undertaken, and also details of guidelines relating to school attendance.
These Parenting Contracts must be agreed between all parties and the Youth Offending Team must provide a programme of help in order to assist in the rehabilitation of a child with behavioural problems.
If you are in any doubt as to the nature of your child's behaviour whilst not in your care, or how to try to combat the problem of anti-social behaviour in your area, it may be worth meeting with your local Community Liaison Officer. This is normally a police officer who will be able to offer advice and guidance on how to deal with the affects of your own child's behaviour and the behaviour of other children in your area.
You might also like...
Mel - Your Question:
I had my son at an early age I hadn't grown up back then, I had a difficult child hood and I was on drugs. My mum has raised my son he is 15 now she has got Residence order and claims all the benefits for him. Well this past year my boy has been staying at my house a few nights a week I do not claim anything for him and he is not on my rent book like my other two children. Anyhow I received a letter from the police and the safety neighbourhood team who send kids to court, also my housing officer they wanted to speak to my son regarding anti social behaviour in the area we live not at my address its to do with his behaviour while walking the streets being with the wrong crowd. the question I want to ask is now yes im his mother but my sons permanent address is with my mother she is his guardian from the residence order which she has had years and receives all the money so how can the police threaten me to put this asbo and other charge where I get the big fine and at risk of loosing my home. I love my son but for the past 14 years of his life I was shut out my mum would not let me be a part of his life teachers no one would speak with me but now he has been staying and this trouble has arrised its me who they are threatening and holding responsible for his behaviour which of course I came down on him like a ton of bricks
---
Our Response:
If you son is spending a proportion of his time at your property and the incidents are in your area - this is why the housing and the police are talking to you about it. Perhaps you could speak with your mother and make some arrangements your son to stay there for a while to see if his behaviour improves? Or can she help under the current arrangements in anyway?
LawAndParents
- 11-May-17 @ 12:50 PM
I had my son at an early age I hadn't grown up back then, I had a difficult child hood and I was on drugs. My mum has raised my son he is 15 now she has got Residence order and claims all the benefits for him. Well this past year my boy has been staying at my house a few nights a week I do not claim anything for him and he is not on my rent book like my other two children. Anyhow I received a letter from the police and the safety neighbourhood team who send kids to court, also my housing officer they wanted to speak to my son regarding anti social behaviour in the area we live not at my address its to do with his behaviour while walking the streets being with the wrong crowd. the question I want to ask is now yes im his mother but my sons permanent address is with my mother she is his guardian from the residence order which she has had years and receives all the money so how can the police threaten me to put this asbo and other charge where I get the big fine and at risk of loosing my home. I love my son but for the past 14 years of his life I was shut out my mum would not let me be a part of his life teachers no one would speak with me but now he has been staying and this trouble has arrised its me who they are threatening and holding responsible for his behaviour which of course I came down on him like a ton of bricks
Mel
- 9-May-17 @ 10:45 PM
@cheetahclub. Once your child is 16 you don't have any 'rights' as such. A 16 year old can choose to leave home without their parents' consent. More information is available on this
page of the Childline website
LawAndParents
- 10-Jun-15 @ 12:24 PM
my daughter who is 16, doesn't want to live at home, has contacted social svs etc, we were in Dom viol, now out of it for a yr. she says I'm not allowed in her room, she has been told to eat all her meals in her room. Where do I as a parent stand, what are my rights
cheetah cub
- 6-Jun-15 @ 9:44 PM