Protecting Your Children When They Leave Home
By: Lorna Elliott LLB (hons), Barrister - Updated: 10 Oct 2012
|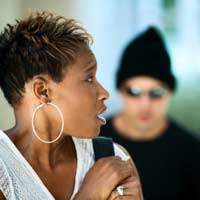 Regardless of the age of your child when they leave home, you will naturally be concerned about their welfare. Whether they are moving into university halls of residence or setting up home for the first time, there are a number of things you should do to ensure that they are as safe as possible. The following questions provide a checklist to ask yourself in relation to your child's personal safety, personal property, and precautions to take when they are out and about.
Personal Safety
Have you considered giving your child a personal alarm? They are not expensive to buy and can be highly effective in the event that your child feels threatened or is attacked.
Tell your child not to wear their iPod on display or headphones in their ears while walking on the street. If they do, they are much more vulnerable as a mugging target, as well as being less aware of their surroundings.
Although it may seem like common sense, your child should always remember not to keep their mobile phone out on display in public, keep bags and purses zipped or clasped shut, and not to keep wallets or other important possessions in loose external pockets or in the back of rucksacks, which can easily be targeted by pickpockets.
Protecting Property
Have you been to your child's new home? Does it have working locks on all entrance and exit points as well as windows, outhouses etc. There are security risks depending on the type of accommodation your child is moving into, for example, shared flats or houses are statistically much more likely to be broken into than halls of residence.
Have you insured your child's possessions?
Are all of their items marked with an address or postcode? In the event that anything is stolen, this will help the police to identify it as belonging to your child.
Buy your child a timer switch that will turn lights on and off at certain times to give the impression that someone is in.
If your child is coming home for the holidays, ensure that they either bring their valuable items back with them, or get them to have their possessions stored in a secure unit while they are away.
Going Out and Using Public Transport
Your child should be advised to travel in a group, where possible, and should never take short cuts through dark alleyways or in poorly-lit streets.
If your child thinks they're being followed, they should go into the nearest public place, such as a garage or shop. If necessary, they should report the incident to someone in the shop or get someone to pick them up.
Your child should be encouraged to use public transport if travelling alone, but warned about the dangers of falling asleep on buses and trains.
Your child may think you're scaremongering or being over protective, but it is much better to be forewarned of potential dangers than not to have discussed them at all. Reassure your child that you're not being patronizing or bossy, but that you want them to be safe and to have the best possible experience now that they are taking their first, very important, steps to independent life.
You might also like...