Older Children Renting a Property: A Parent's Guide
By: Elizabeth Mugan BA/BSc, PGDipLaw, BVC, CIArb - Updated: 21 Oct 2011
|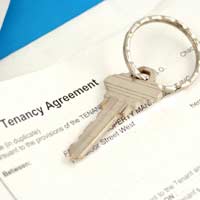 If your child is thinking about moving out and renting a property, you will want to ensure that the renting process goes as smoothly as possible. Here is a guide containing the key information you will need as a parent.
The advantages of renting
There are many advantages to renting rather than buying a home. Firstly, renting can be cheaper and bills can be more predictable. If there are problems with the house such as the boiler breaks or the roof needs re-slating, then it is the landlord's responsibility to pay for property maintenance rather than your child's.Renting also offers more flexibility than owning a property, particularly if your child plans on moving on quickly, for example if they get a new job.
How to find a place to rent
Understanding your child's needs as a tenant is important to finding the best property to suit their lifestyle. It is important for you and your child to think about what they want in a property and what key features are required. A number of important factors to consider are:
Whether your child wants their own place or whether they would prefer to house-share
Whether security is important
Whether your require secure parking or whether street parking is sufficient
What the bathroom facilities are
Whether you want a garden
How much you are prepared to pay
Whether utilities are included in the price paid etc.
Renting privately or through an estate agent
Renting from a private landlord means that your child will have to meet with a stranger and, of course they do not have to be regulated like letting agents. The worry will be alleviated, however, if you plan to go with them and there are advantages to renting from a private landlord. One advantage, for example, is that you will not have to pay agency fees on top of a deposit. On the other hand, letting agents can offer some security and peace of mind.
What to look for on viewings
It is important that you take a good look your surroundings when you go with your child to view properties. Things you should look out for include whether the property is well maintained and whether utilities, pipes and taps are in good working order. Speak to the neighbours and find out why the current tenant is moving out. Visit the property at different times of day, look at how secure the property is and see if there is a secure postbox if you are looking at flats.
Ask the landlord or agent what the transport links are like, whether any furnishings are included and ask to see the gas safety certificate and operating instructions for electrical items. It will also be useful to check how much storage space there is and how well insulated the place is (it will cost more in bills for a badly insulated property).
Budgeting and finances
It is important to budget carefully. Your child should allow for utilities and council tax, unless they are included. Council tax rates can be found out by contacting the local authority. Make sure they compare like for like and read everything carefully. If your child is moving out to live by themselves, they will be able to get 25% off their council tax bill.
In terms of the rent payments, sometimes tenancies are paid per week and sometimes they are to be paid per calendar month. Your child should consider how and when they are going to be paid. If they are paid weekly, but rent is paid monthly, they will need to budget to save the right amount of money. Similarly, if they are paid monthly, but rent is weekly taken, they must ensure they have enough each week to pay the rent. Missing rent payments could result in eviction and a damaged credit rating, so make sure you do not miss any.
Tenancy Agreement
It is very important to check the tenancy agreement or contract. Find out how much the deposit is. Is it a fixed term tenancy? If so, for how long? Can the tenancy be extended or will it expire? Or alternatively, will the tenancy roll on from month to month after the period expires? These are important factors to consider.
Other considerations are whether the landlord will accept tenants who are on benefits or who are students. They may only consider employed tenants. A landlord may also want the agreement to be signed by a guarantor. You may need to consider whether you are prepared to be a guarantor for your child as this usually falls to a parent.
Also think about the market generally. Is the property in an area where a lot of properties are on the market? Has the property been on the rental market for some time? All of these considerations may lead to you or your child being able to negotiate the price.
Things to do before moving in
Things to do before your child moves out include hiring a good removal firm, reading metres in the property well before they move in so that you can check out the best value utility contracts well in advance and redirecting post well beforehand. It is also wise to stand up a standing order to pay the rent so that it reaches the landlord's account on time.
Your child also needs to search for contents insurance so that their possessions are covered. Ensure that the correct level of cover is purchased to include all electrical items and to include items belonging to the landlord, if it is a condition of the contract.
Things to do when moving out
There is a lot to do before your child moves out of the property. It is important for your child to follow all of their obligations to ensure that they get their deposit back. They need to ensure that everything is clean, tidy and cleared out so that the property is in the same condition your child found it in. Put all furniture back in its original place and repair or replace any damaged items. When the landlord conducts the check out inventory, your child should try to be there to ensure that everything is recorded correctly. If no inventory is taken, then photographs should be taken where possible to prove the state or condition of any items.
You might also like...