Who Qualifies for Help With Childcare Costs?
By: Lorna Elliott LLB (hons), Barrister - Updated: 3 Mar 2021
|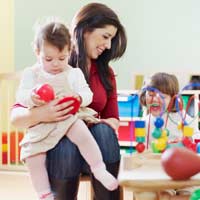 People who work and pay for someone else to look after their child may be entitled to claim for financial help for childcare. You can start to claim as soon as you begin to pay for childcare, but cannot claim on behalf of anyone else. It is not possible to claim for childcare costs in advance. For example, if you and an ex-partner share childcare costs, you will only be able to claim the amount that actually comes out of your pocket.
Do I Have A Choice Of Childcare?
Yes, as long as the childminder is approved or registered. Therefore as long as the nursery, childminder, foster carer, after-school club or nanny is registered or approved this will be deemed suitable and you can claim. However, the rules relating to approval and registration differ throughout the UK, so it is important that you ensure that your chosen childcare provider qualifies.
Minimum Working Hours
If you are a single parent, you need to work a minimum of 16 hours a week to qualify for help with childcare costs. If you are in a couple, both of you must work at least 16 hours per week, unless either one of you is claiming disability benefits, is in hospital, in prison or ill.
Sick Leave
If you were working at least 16 hours per week before you went off sick, you can claim for help with childcare costs, for a period of up to 28 weeks of sick leave. You can also claim if you are receiving Employment and Support Allowance, National Insurance Credits due to a limited capacity for work, or Statutory Sick Pay.
You can also claim if you are on Maternity, Paternity or adoption leave, as long as you were working for a minimum of 16 hours per week before you went on leave. However, there are some restrictions: you can only claim on maternity leave if you are on ordinary maternity leave, or you get maternity allowance, or you're in the first 13 weeks of additional maternity leave.
How Much Childcare Assistance Can I Get?
The government will help you with up to 70% of the costs of your childcare, up to a maximum of £175 per week for one child, and £300 per week for two or more children. However, the amount that you will actually receive depends on the level of your income.
The most you can claim for your childcare through tax credits is £122.50 per week for one child, and £210 per week for two or more children. If the costs of your childcare go up by a minimum of £10 per week for four weeks in a row, you need to tell the Tax Credit Office as if all your circumstances remain the same, you may be able to claim more money. Similarly, if your costs reduce, you need to let them know to avoid overpayments and possible penalties.
What Can't I Claim For?
If your employer gives you assistance with childcare, either in money or vouchers, you can't claim for childcare through tax credits. Similarly, if your local authority pays for your childcare costs, such as nursery or early learning, these are exempt. If you are a student or starting work, the money that you get from the government to cover the costs of childcare are also exempt. However, if you do pay some money towards childcare costs yourself, you will still be able to claim for this amount.
You might also like...
Hi .I am British citizen, I have married andhaveone children , i get supportwith personl independent payment(pip) i bring my family to theUK one year ago to live. 2 monthsafter they caming to the uk we have a problems and system didn't we live together and we have a separated Please I wants to know If we want to apply for child tax credits,ho received tax credit many.me or my wifebut the way baby lives with mom .thanks for help
Omid
- 3-Mar-21 @ 6:28 PM
Hi, I've been on sick leave for 2 months. I still claim Universal Credit childcare element because I'm tied into contact with the nursery of a months notice and I'm hoping to get back to work once well. Today Universal Credit called me and told me they will not pay childcare because I'm on sick leave. Is this correct?
Lizap
- 5-Aug-19 @ 2:49 PM
I was looking for a nanny for my 13 and 11 years old daughters only to cover hours during evening and night shifts. The nanny who has recently contacted me is only 18 years old, am I legally allowed to leave kids with her.
Shabbi
- 9-Jan-16 @ 2:25 PM