Child Court Witnesses
By: Lorna Elliott LLB (hons), Barrister - Updated: 11 Oct 2012
|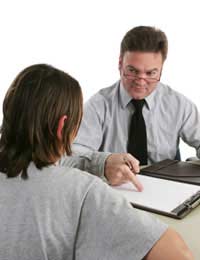 If your child is going to be a witness in a court case, there are certain things that you can do as a parent to reassure them. You can tell them that they are not to blame for what has happened and that they are not doing anything wrong by being a witness. Similarly, reassure your child that it is right to tell the truth, and regardless of the court's final decision he or she is not responsible for it.
Is There A Minimum Age For Child Witnesses?
Children of any age can give evidence in court. If you receive a witness summons in relation to your child, they MUST attend court. This is because a witness summons is a court order and failure to attend is contempt of court. The test for whether a particular child can give evidence is whether they can give 'intelligible testimony'. This means that they understand what is being asked of them and are able to communicate in a way that the court can understand. If your child is over the age of 14, they can take an oath. If your child is younger than this, they are not required to do so.
Cases that involve child witnesses take priority over those that don't. This means that the court will try to ensure the case is heard within a reasonable period of time. A child witness's parent should be told about the date of the trial, what the bail conditions of the accused person are, and if the case does not go to trial, why it hasn't gone to trial.
Court Procedure
You should also be told how your child will give evidence, i.e. whether it will be by video link or from behind a screen. It is also possible to claim for travel expenses for the journeys to and from court, and you should also be told how to contact the witness service at the court.
How to Prepare For The Case
Before the trial, the local child protection unit or police service should tell you about the child witness preparation scheme. This enables your child to prepare the child for court, but does not allow for anyone to discuss the evidence with the child. If at any stage there are concerns that your child is not able to give evidence, for example, they are not capable of doing so, the police and the prosecution service (CPS) should be told.
How To Help
Your child may behave differently before they attend court. Child witnesses, like any other witness, may feel anxious or nervous. If applicable, seek further support from others such as a teacher, the police or a child witness supporter if your child begins to exhibit feelings of anger, upset, fear or guilt. You should also consider similar interventions if your child wets the bed, or begins to change their mind about the accused.
It is a matter for you and your child as to whether you attend court with them. Sometimes you may also be a witness yourself. If this is the case, you and your child may not talk to each other about what has been said in court if you give evidence at different times. For example, if your child gives evidence before you, you cannot sit in court to hear it if you are then going to be a witness afterwards.
Special Measures In Court
There are a variety of ways that courts try to make children feel more comfortable in court. This can include live television link evidence, having a screen so that they cannot see the person in the dock while in court, giving evidence in private, or giving their main evidence on a pre-recorded video tape (they will still be cross examined.) Barristers and judges may remove their wigs and gowns, and in some cases evidence can be given through an intermediary such as an interpreter. If a child has special needs, or suffers from a disability or disorder, they may be allowed to have a communication aid to help them give evidence to the court.
You might also like...
I need to know whether the court gives any right to a child of 11 years to decide with whom he wants to stay ( father or Mother) in the case where the child has been staying with his mother & her parents for the last 10 years & is bieng brought up properly.
Vishal
- 9-Jun-11 @ 12:36 PM