Keeping Your Child Safe on the Internet
By: Elizabeth Mugan BA/BSc, PGDipLaw, BVC, CIArb - Updated: 20 Aug 2019
|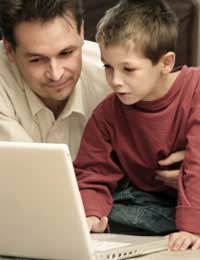 If your children use the Internet at home or in school, it is very important to ensure they stay safe. Here are some top tips ensure they surf the web safely!
Up to Age 10
It is recommended that you sit with your child when they are using the Internet up to the age of 10. That way, you can monitor their use and help teach them how to use websites safely. There are content restricting tools, which are useful to buy if you cannot always watch over your child. These packages can help you limit specific content, websites and some block pop-ups and phishing sites.
Top tips to remember for little ones:
Set clear rules for Internet use and stay with them while they are online.
Encourage them to talk to you about websites and ask questions.
Teach the importance of not sharing personal information online.
If they must use a name for personalisation, use a nickname so they cannot be identified by people they don't know.
Use family safe packages to limit access to inappropriate content and use a pop-up blocker.
Encourage everyone in the family to be positive role models for younger children using the Internet.
Ages 11 to 14
At this age, children tend to be quite savvy at using the Internet but it is still necessary to monitor their use to check that they don't come into contact with inappropriate materials. You should also be teaching them not to send any personal details over the Internet and to limit their use on chatrooms, only allowing them to speak to school friends that they know.
Again, at this age it becomes more difficult for you to watch them at all times and so family-safe Internet programmes are advised to limit content.
Top tips to remember:
Use family-safe packages but set them to 'medium' so as not to restrict their use too much.
Remind them not to give out personal details and explain why.
Keep computers in open rooms rather than in bedrooms so you can monitor use.
Use a pop-up blocker and teach them about harmful phishing sites.
Praise and encourage your kids to tell you if something happens online or someone says something to them which is threatening or upsetting. Assure them that this is the right thing to do and they are not in trouble for bringing it to your attention.
Age 15 to 18
At this age, most teens will have pretty much unlimited Internet access. It is, however, good practice to remind them of rules such as what is classed as safe and unsafe browsing and sites, and what personal information they should and shouldn't share over the Internet. Perhaps it is a good idea to show them examples of what could happen should they pass such information to someone they don't know.
Top tips to remember to keep your teen safe:
Again, keep communications open and ask them to tell you if something inappropriate or unusual happens while they're online.
Keep computers in an open area so that you can see the sites they browse.
Use Internet-filtering tools and pop-up blockers.
Know the sites your child uses and remind them to only speak to people they know on chat sites. Insist that they never agree to meet an online friend.
Keep a list or guideline of rules on how long they can spend on the Internet and dos and don'ts when surfing the net.
Teach teenagers not to give email addresses out online and how to combat spam and phishing emails.
Talk to them about pornography and adult pop-up sites and direct them to positive sites about sexuality, if necessary. Ensure that they do not post photographs of themselves or friends on the Internet, or download programs or music without permission as they may be subject to copyright laws.
Remind them to use internet responsibly, not to gossip or bully others or use it for gambling etc.
Teach teens how to be safe when making financial transactions online.
You might also like...
Looking advise for my 16. Years kids that what's law for parents to 16 years old Because at 16 so rude and disrespectful ready to leave home Can a parent kick out of house 16 years old kids ?
Jack
- 20-Aug-19 @ 5:58 PM