What is a Supervision Period?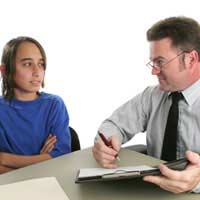 Many Young Offenders who are sent to a Young Offenders Institute are required to be supervised upon their released back into the community. Known as a Supervision Period, its aim is to reduce the chances that the young person will reoffend, help them to find gainful employment, and integrate them back into the community.
When a Young Offender appears before a magistrate, he or she will be sentenced to a period of time in a Young Offenders' Institute (YOI) where they will receive help and support and assistance in rehabilitation. At the time of sentencing, a magistrate can introduce a period of detention whereby the Young Offender will be sent to a YOI if he or she is a persistence offender.
Detention and Training Orders
A detention and training order is put in place by a magistrate to act as a guide as to how long the offender will have to spend in a YOI. This order details what course of action is to be taken by the staff of the YOI during the offender's stay. This may include a series of rehabilitation classes and/or a means of weaning the individual off drugs or alcohol which may have been a contributing factor in their imprisonment to begin with.
Period of Supervision upon Release
When an individual has served their sentence – be it in it's entirety or up to the point where probation is granted – he or she becomes the subject of a Supervision Period, and will be supervised by one of the following:
During this time any of the aforementioned will be asked to supervise the individual in question as they try to readjust to being part of the community again. In addition, a social worker, probation officer or youth offending team officer may be called upon to help assist the individual in question as they try to find suitable work or indeed return to school.
Also during this period of supervision, the individual in question may be required to visit their local police station on a set date at a set time in order to prove that they have not left the area and may also be subject to Curfew Notices. If this is the case, then any of the aforementioned individuals may be obliged – in accordance with the wishes of the magistrate – to check on them in order to establish if he or she is adhering to the conditions of their period of supervision.
If they are found to be in flagrant breach of the conditions set down by the magistrate, then he or she may be liable to be returned to the Young Offenders' Institute or to an adult prison depending on their age.
For more information, contact your local Social Services department or member of your local Youth Offending Team.
You might also like...