What are my Ex-Partners Visitation Rights?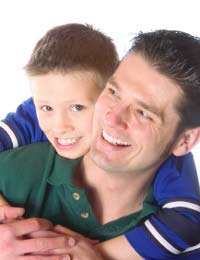 Q.
My partner and I were never married, we have two children and have recently separated. We are both British, I live in France with the children, one of which was born here.
He has a house in France but is not resident here as he works abroad based in London and Dublin. I would like to know what my rights are with regards to custody of the children and visitation rights for their father.
At the moment he turns up in the country without notice and expects to keep the children with him, if that is for a day or three weeks, and they are very confused. Can I make him regularise his visits? Who do I speak to, an English lawyer or French?
(Miss M.K, 16 October 2008)

A.
Parental Responsibility
As the mother of the children you automatically have what is known as parental responsibility for them. This gives you both rights and responsibilities for the children. These include providing a home for the children, protecting them, making decisions about their welfare and education, and deciding where they live.
The unmarried father of a child will only have Parental Responsibility for that child if he entered into a parental responsibility agreement with the mother or obtained a parental responsibility order from a court. For children born after 1st December 2003, unmarried fathers may acquire parental responsibility by jointly Registering The Child's Birth with the mother. If none of these apply, you have sole parental responsibility and the right to make any decisions involving the children.
Custody of Your Children
It seems that, either by an agreement with your ex-partner or just because it seemed the natural thing to do, you have custody of the children. It would appear that this arrangement also suits your ex-partner's lifestyle. This is also compatible with you having parental responsibility.
Visitation Rights
Your real concern seems to be the way your ex-partner has taken to arriving unannounced and expecting the children to stay with him. If you have sole parental responsibility, you are entitled to say how and when these visits should take place. If your ex-partner also has parental responsibility, he will be equally entitled to say what he thinks it should happen. However, it sounds as if the only consideration your ex-partner gives to these visits is what suits him. It is unlikely to be in the children's best interests to have no idea from one minute to the next what will happen.
UK or French Law
Asking the courts to resolves issues involving children should always be a last resort. In England, the law which governs children's issues, the Children Act 1989, specifically states that the children's welfare is always paramount when a court decides what order to make and whether it should make an order at all.
If there is any possibility that this issue can be resolved through discussion with your ex-partner, this should be the first step. Perhaps your ex-partner has not given much thought to how his arrangements impact on the children's wellbeing. Stability and routine may be of paramount importance to them after the trauma of a break-up.
If you and your ex-partner cannot reach a mutually acceptable agreement regarding visitation and /or custody, you may still wish to consult a lawyer. If you and the children are permanently based in France, it would almost certainly be appropriate to consult a French lawyer. Conducting legal proceedings in the UK from France would be time-consuming and expensive.
Under European Law, the decision of a court in one EU state regarding issues of parental responsibility should be recognised by the courts of all other member states. Therefore a decision reached in France should be binding in the UK.
You might also like...
i have split with my partner and she tells me she not putting my name on what right do i have i this matter
nez
- 11-Oct-12 @ 10:46 AM
I've just split up from my long term partner. We have a daughter (10 months old). I want to see my daughter on a regular bassis but my ex has told me she will make it as difficult as she possibly can. So far i haven't seen my daughter once. Could anybody offer me advise please.
Jay
- 11-Sep-12 @ 2:26 PM
My husband I and split in 2009 between the split and now 2012 )he has hardly any contact with his two children , I have no telephone number or address for him , were getting divorced which will be finall in 6 wks and all of a sudden cafcass has contacted me he wants access what are his rights ? My children dont want to see him because its been over 3 years since he last looked at them let alone spoke to them , I have them in a stable routine , he dosent pay for then or contribute to there up bringing I do that myself what rights does have ?
saz
- 31-Aug-12 @ 12:48 AM
My husband left me and my son who was 2 and half 6 years ago. He did not give us his contact number or address for us to contact him. My son is 8 years old now and my husband wants to see him now and I just wanted to know that what right has he got over son because I've recently got married and my currant partner is very good withy son and my son calls him dad. Can I say to my ex husband that he's not allowed to see my son??
No name
- 21-Aug-12 @ 3:41 PM
I separated from my ex partner when my son was around 17 months old, we were never married. I agreed for him to see our son once a week and have done everything to allow him to see his son. After aggressive behaviour towards me 4 years ago, I put in place an agreement for him to have our son every other weekend through solicitors. Recently my son has refused to go to see his dad for various reasons, he has suffered tantrums and anxiety about staying the night at his dads (waiting on diagnosis, my son may be autistic) I have had to tell his dad a number of times that we are unable to see him. Now my ex demands that he should see his son on the agreed weekends regardless of tantrums and thinks that my son (now nearly 8years old) should not have a choice in the matter. If I do not agree to this that he will go through solicitors again, even though I was the one who put this agreement in place for my own safety. Now I have a stable partner and father figure for my son, I feel that these threats are due to his insecurities and nothing to do with the wealth fare of our son. Has my son got a right to what he wants? I really don't want my son to be forced to stay with his dad if he doesn't want to. I am stuck with what to do for the best
My ex wife wants to know my girlfriends address when I have my agreed to through a separation agreement time with our daughter's does she have the right to know that when it's my time.
Colin
- 25-Jul-12 @ 1:36 AM
I live in Scotland, and my child was born here (though I am English by birth) I want to move back to England to be closer to my Father.My ex partner (we split up 3 and a half years ago when child was 6 months old) has got contact rights from the court.He is on the childs birth certificate but we never married. Can he stop me, am I allowed to move to better our lives?
glayvagirl
- 12-Jun-12 @ 11:36 AM
daughter now 18 does not want to speak to or visit father she has not seen since a baby....her choice!! should she be forced to,she is going to university in october will the law make her while she is in education.
jan
- 28-May-12 @ 9:17 AM
I live in the uk with my son who is 4mths old. Myself and my partner split up a month ago and the separation has been very turbulent. I have allowed my ex to have regular visits to see his son and take him out, even staying over for a few nights. Last week however he bought my son home smelling of smoke and I have since found out he has been taking my son to his friends house who has given me good reason to be concerned for my sons welfare & potential bad influence in my sons life. I have asked my partner to reassure me that he will not take my son to the house of his friend again and he has flat refused to listen to me or agree not to. As such, today I have asked him to leave my home without taking his son out as he would not agree to not take my son to the places of concern. He has since sent me threatening messages to apply for full custody of my son even though I have a wonderful home, excellent career and have provide for my son financially on my own for months now. He however now sleeps on his mums sofa, smokes weed and medically suffers from depression. He also has another child who he abandoned 5 years ago and has not had any contact with. I do not want to stop access for my ex, however if I cannot be reassured that my son will not be taken to certain places of concern what should I do next? What are my rights as a responsible mother? How can I sort out regular access for my ex without concern of where my son will be taken?
I haven't seen my ex husband for 3 and 1/2 years and neither has our five year old son. He doesn't pay anything through csa or otherwise and we've got on really well without him. Me and my new partner are getting married next year and we were even looking into changing my sons name so we all share a surname. Then out of the blue i got a text from my ex asking to see my son, he then phoned and explained that he had just split up with his girl friend, lost his job, was sleeping on a friends couch and had the week before attempted to kill himself. Under normal circumstances it would be difficult to re introduce this man to my son but his mental and financial instability worries me. Can i tell him hes not getting anywhere near my son till he sorts himself out or is that unfair?
MissJ
- 3-May-12 @ 9:55 AM
i separated from my ex husband five years ago i am now about to start divorce proceedings during this time my ex has never requested overnight visits of our nearly seven yr autistic son who has various mental health and physical problems . We have always stuck to visits once a month with him staying at mine for one night during this time my sons father has never helped with disturbuting medications or helping with bath time etc he has never attended doctors appointments or spoke with my sons school or visited schools he also had no imput to my sons statement i dont want to stop contact but i dont think for my sons welfare it is not a good idea to suddenly send him overnight to his dad when my ex doesnt understand my sons needs . i would be happier if he were to attend a course in learning bout autism is this unreasonable
hazy
- 9-Apr-12 @ 12:09 PM
i am a single mother, my child was born on the 7th december 2011 the father was preasent wen regerstering and his details where recorded on my sons birth certificate we split up a week later, for the last 3 weeks he has not bothered with my son as he was getting back with his ex my son is three months old and all of a sudden he is demanding i let him have him every saturday and sunda and overnight on a saturday. do i have to allow him this as he says he has equal rites to my son but i dnt want him in and out of my sons life when it suits him i want to know exactly where i stand, i have offered him sundays 12 till 4 yet he saying he got the right to have him overnight and anytime he wants i want to know if this is true and how much access i have to give him as minmum without taking matters to court
chelle
- 7-Mar-12 @ 2:49 PM
3 years ago i took my ex to court so he could see his child, the courts first of all said he can visitation at my house with me present, but when he came he was just asking me back and wasnt showing any interest towards the child, i told my solicitor and then he missed visits so i took him back to court, of which then i offered for him to see his child at my mothers without me present, he would then come for a few visits then miss a couple of weeks then come then he didnt show up for 6 months, of which we learnt that my ex moved away, after 6 months of not hearing from him, no letter, nothing for 6 whole months, i then recieved a letter stating he wanted to see the children again, of which we went back to court, at court i asked for him to see the children at a contact center twice a week, he turned up then didnt then did then didnt so on, but the second contact center he was meant to go to he never turned up at all, a CAFCASS report was also to be filed of which he never turned up to his appointment with the CAFCASS officer, then back at court he never turned up for the hearing, so it got withdrew, now 2 and half years later i get a solicitor letter stating he wants to see the child again. I would like to know if he would get another chance of having contact, also will the courts realise he is just playing games, my child is only 5 starts school in september which a big enough thing in her life without having a complete stranger come in and out again. I feel he is not interested in whats best for the child and is just playing games, my child is very stable and very happy and i dont want him to come in and ruin everything. This is not in the best interest for my child.
brunette
- 12-Jan-12 @ 8:40 PM
my sons natural dad hasnt seen him for around 8years now, i had a another partner, mr d,and went on to have another child, who is now one and a half, mr d, seems to favour the company of the son thats isnt biologically his, and will only see them when it suits him, he has no job, and refuses to pay maintanence, i work and have to pay for a nanny because of my shifts. he has no parental responsibility. what rights do i have to force him to a)pay up (i am in contact with the c.s.a) b) see the children at fixed times and spend equal amount of time with them? or at least time with the smaller one? i have tried many discussions civilly and not civilly,im at my witts end i have no family to help me. what do i do?
loopy
- 8-Jan-12 @ 5:07 PM
@Miss S. Denying your daughter contact with her dad is not really the way to help the situation. You need to contact the CSA and they will set up an arrangement for you.
LawAndParents
- 26-Jul-11 @ 10:03 AM
i have split up with my partner we are not married we split about 8months ago and he wants all the say in what goes on in our daughters life and wants to visit all the time he does not support her by givin me matainace i provide her with everything she needs he has a good well payed job to our daughter is 9mths old now n hasnt payed a penny for her wot rights do i have when it comes to visit as he dnt support her do i have the right to lower his visit to once aweek on a saturday for 3 hrs
Miss S
- 25-Jul-11 @ 8:30 PM
I live in France am british and my ex also lives in france and is dutch, we are not married. However both our names are on our sons birth registration so I understand that we both have parental reponsibility. I am worried that my ex is going to cause some problems,the split has only happened in the last couple of weeks. Does my ex have a right to take my son away from me? As the parents how does the law see our individual responsibilities eg how is it decided where my son should live, what are my rights if i wish to leave france with my son? I own a house here, outright, but as I am a full time mum at the moment I have no income, I think I should be eligible for governmental support though. My ex has is own business so could financially support my son. I would appreciate a quick response as I am very worried. Our son is 8 months old. Thanks so much.
Ms B
- 22-Jun-11 @ 1:16 PM
I live in spain with my 2 kids and my new husband. I have 2 kids from my ex, we were not married but I want to change their names to the same as mine. How do I go about that without his say so and how can I get sole custody for my children?
car
- 20-May-11 @ 12:27 PM