Adopting a Child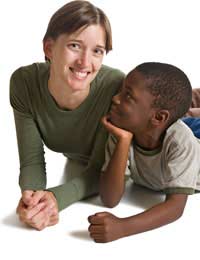 There would seem to be a common misconception that only a select few can adopt a child in the United Kingdom. Many consider the accepted criteria for adopting a child to be one of financial security, being part of a couple, and coming from an almost utopian background.
However, the reality is very different. There are many people from differing backgrounds who adopt, and their reasons for doing so are also varied.
Who can Adopt?
The criteria for adopting a child is not as cut and dry as it might seem, and there is no real limit to who can adopt. It is true, however, that certain individuals might be refused the right to adopt, but when it comes to make those decisions it is very much a matter for the authorities to decide who can and cannot adopt.
Age Limit
The age at which someone can adopt a child is not set in stone, although it is safe to say that the youngest age permitted to adopt a child would be 21. Individuals much older have adopted children in the past and continue to do so, and it is not necessarily the case that someone in their late 40s or early 50s will be refused the right to adopt on the basis of age alone.
Some adoption agencies do operate a policy of not permitting individuals in their 50s to adopt a young child but they can adopt a child in their teens, as the general consensus is that a child in their teens is able to look after themselves much more confidently than a child who has not yet reached that age bracket.
Do I Have to be Married?
No, you do not have to be married, and you do not have to be part of a couple. Single women and single men can adopt providing they meet the criteria set down by the adoption agency and social services. A couple who are not married but have lived together for a number of years – referred to as common law husband and wife – are also eligible to become adoptive parents.
Financial Considerations
Contrary to popular belief you do not have to be wealthy in order to provide a child with a stable and loving home life. Many adoptive parents live within their means, which often includes living on the minimum wage. Indeed there is no stipulation for prospective adopters to have their own home. In some cases, they may be able to seek benefits to aid with the costs of caring for their adopted child.
Will a Criminal Conviction go Against Me?
It depends entirely on the nature of the offence and whether or not the conviction is considered to be spent. Of course, there are exceptions to this, which include any offence that involves the harming of another or indeed any offence against a child or vulnerable individual.
Sexual Orientation
Many people think that if they are living in a same sex relationship they are not entitled to adopt. This is simply not true and changes in the Adoption and Child Act of 2002 now means that same sex partnerships – registered as civil partnerships or not – are eligible to adopt.
For more information, contact you local social services who will provide you will helpful advice and support on how to go about registering to adopt.
You might also like...
advice please been with my husband 4 years now married 2 i have 4 year old daughter who father never wanted to see support or put his name on birth certifacte ghter nam we changed my daughter name by deed poll to our name and she calls him daddy and he only one she ever known we got together when she was 8 months old we have another daughter together whos 2 and half can my husband adopt my daughter ? what process is it ? and would i even have to adopt my own child in order for my husband to do this ? does it cost much? we live in the uk
littlestars
- 6-Aug-12 @ 8:28 PM