Dismissed from Work Due to Pregnancy: A Case Study
By: Elizabeth Mugan BA/BSc, PGDipLaw, BVC, CIArb - Updated: 11 Oct 2012
|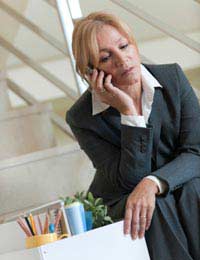 Dismissal from work because of pregnancy is illegal under the Sex Discrimination Act 1975 and yet it still occurs all too often. Employers can only dismiss a pregnant woman if they can prove it is not because they are pregnant. This case study shows Monika O'Neill, a Religious Education teacher Dismissed After She Became Pregnant by a Roman Catholic Priest.
Breaking the News
Monika O'Neill (formally Kocanek), a teacher working at a voluntary aided Roman Catholic School in Bedford, was there from 1990 and she later began a relationship with a priest. Monika became pregnant in 1991, about the same time that she was ill with a virus and off work.
"When I told the school I was pregnant, I was told that my behaviour was 'unacceptable' and 'untenable'. I was promptly visited by a chair of the board of governors who said it would be best if I resigned," Monika explained.
Dispute
"I argued at the Industrial Tribunal that I was not employed as a guardian of Catholic morality just because, during my capacity as RE teacher, I gave lessons on abortion, sex outside marriage and personal relationships. I was not obliged to give any kind of personal judgment, I was paid to teach. I was sacked because I was pregnant and they tried to dismiss me before they knew who my baby's father was, so it was nothing to do with him being a priest, it was just because I was unmarried and pregnant."
The council of governors argued, however, that they did not dismiss Monika because she was pregnant, but because she was pregnant by a Roman Catholic priest, which was unacceptable in her role and that it was common knowledge who the father was.
"Soon after, I was bribed with financial inducements and the head teacher told me the situation was 'messy' and things would be easier if I resigned," she said.
She was visited by another priest, who invited her to stay with friends outside of Bedford and offered a trust fund for the baby.
A week before her daughter was born, the same priest came to see her and demanded she resign or he would make her redundant.
"He offered me cash as well as severance payments and maternity pay. I spoke to the press after my maternity pay was stopped three months after the birth of Jennifer, my little girl." She believed this also had an effect on the school dismissing her. All of Monika's allegations were denied by the governors at the tribunal.
No Sex Discrimination
Sensationally, the Industrial Tribunal ruled that Monika had not been sexually discriminated against, ruling in favour of the Roman Catholic School. The tribunal asserted that there is a difference between sacking a woman because she is pregnant, which constitutes sex discrimination under the 1975 Act, and sacking an RE teacher in a Catholic school when she is pregnant by a priest and the relationship has become public knowledge.
Appeal Court
Monika decided to take the case to the Appeal Court. The governors of the school had previously argued that they would have sacked a male teacher had he have impregnated a nun."My barrister used a ruling of the European Court of Justice, in that you cannot compare a pregnant woman's dismissal with that of a hypothetical man and how they would be treated as "pregnant women in employment occupy a special position, which attracts special protection" and "pregnancy is unique to the female sex."
Ruling in the Appeal Court
The Appeal Court decided that this distinction was not tenable under the law. In Monika's case, the motives of the Roman Catholic governors and Bedford County Council were irrelevant, as was the Catholic ethos of the school. The critical question was whether the dismissal or other treatment complained of was because of pregnancy.
The judge ruled that whether or not pregnancy was the only ground for dismissal was irrelevant also, as "her pregnancy precipitated and permeated the decision to dismiss her".
"I was so glad to win my appeal and was awarded compensation, though I can say I am happier that this is justice after the uncharitable way I was treated by the Roman Catholic governors."
You might also like...