We Won Our Surrogate Custody Battle: A Case Study
By: Elizabeth Mugan BA/BSc, PGDipLaw, BVC, CIArb - Updated: 3 Jan 2013
|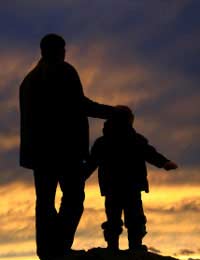 Any court case in the Family Court involving divorce proceedings and children can be stressful and heartbreaking. This case study shows an inspirational story where, in contrast to the usual case, a married couple won custody of their child born to a surrogate mother.
Surrogacy Agreement
Paul and Teresa Rogers were desperate to start their own family when they got married. "After four years of trying, we found out that my wife Teresa was unable to have children and we were devastated. We were still determined to have a family of our own and looked into all the options of adoption and surrogacy."
A year later, the Rogers decided to try surrogacy. "We found a surrogate mother from Bristol named Julie and I made an oral agreement to inseminate her, on the condition that the child she bore would be handed over at birth to us."
Two months later, the Rogers found out that Julie was pregnant and that they were going to have a beautiful addition to make their family whole.
"We got carried away with all the excitement and bought a pram, toys, clothes and decorated a nursery especially for when our beautiful baby arrived. We even went to great lengths to help Julie, including doing her shopping and helped with taking her to doctor's appointments and meetings. She never showed any change in wanting to give the baby to us as agreed."
"On day we called Julie to find out how the pregnancy was going and were told that she'd gone into labour. We drove down to Bristol all excited with balloons and baby clothes but when we saw Julie, we were greeted frostily and it was abundantly clear that she was not going to hand our baby over."
Custody Battle
The Roger's never got the son they had been waiting months and even years for, and their battle for custody started at Bristol County Court. "I took legal action to get custody of our son because Julie refused to give him up, despite our earlier surrogacy agreement to do so."
The law on surrogacy in the UK is that the surrogate mother and her husband are the legal parents of the child, regardless of the fact that Paul was the biological father as surrogacy agreements are unenforceable in the eyes of the law. In ordinary uncontested cases, Paul and Theresa could apply for a Parental Order from the courts, which would transfer parental responsibility from Julie and her husband to the Rogers. However, because Julie refused to give up her son, the Rogers were forced to apply for legal Guardianship and a Residency Order.
At the County Court, Julie lost her case but appealed and was able to retain custody of their son until the matter was completely settled.
The Appeal was held in London's Court of Appeal, where the row centred on who should bring up the toddler. On the one hand, there was Mr Rogers, who is the biological father, and his wife. On the other hand, there was Julie, the surrogate mother, and her husband who already had several children together.
Winning the Battle
In the Appeal Court, the Justices agreed that Julie and her husband have been good parents. They also took into consideration the agreement in place and that Julie has several children, while the Rogers were desperate to have one. Their decision, however, was based on the best interests of the child, and not about what agreement was in place. They took note that the surrogate parents never intended to give the toddler to the Rogers and had used deception in making the agreement. Therefore in the long term, they believed that the Rogers would make better parents.
"We were absolutely thrilled to win the battle and be re-united with our son. The judge even arranged for us to pick him up. We are now a perfect family."
You might also like...
Wasn't there significantly more to this case? Was this the case of the couple who had chosen not to give up a previous surrogate child? They were agreeing to the surrogacy agreements because the husband couldn't have more children or to pay for the medical expenses? One of the couple's children contacted the last surrogate couple to tell them what happened. Is that the same case? What happened after? They received guardianship and a residency order, but the biological mother must still have her rights and ongoing contact/relationship with her son. That child must also have a relationship with his siblings. Is there an update? Did it end like a typical surrogacy where the child has no contact with the biological/surrogate mother, or is it more of a child-of-divorce situation?
ronall
- 14-Jun-11 @ 5:24 AM