I Was Arrested Because of My Son: A Case Study
By: Elizabeth Mugan BA/BSc, PGDipLaw, BVC, CIArb - Updated: 9 Apr 2013
|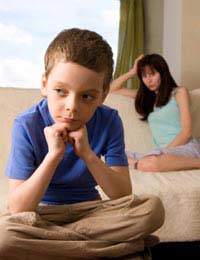 When Mandy Tomlinson was arrested for failing to keep her son, Michael, in school, she thought that would scare him into going and that would be the end of it. But she was wrong.
Continued Truancy
Mandy, a single mum for eight years, had already been arrested and prosecuted for her eldest son Neil's truanting when her other son, Michael, started playing up three years ago.
"I started to let Neil skip lessons because he struggled at school with dyslexia. He suffered from a phobia of going to school and would suffer from panic attacks so I thought he should be able to go to a Special School. The Authorities didn't agree with me and I was given Community Service after attending court."
Mandy was already on probation for Neil's truanting when Michael, then 13, announced he was quitting school. "Michael would pretend to be ill but I would try to force him to go to school, believing that he was just copying his elder brother's behaviour. Michael agreed to attend school but would instead go to older friend's houses to watch television and then pretend he had been in lessons."
Game Up
"Michael's teachers eventually complained to me when they became concerned by his absence. I started to take him to meetings with the teachers, but he would pretend he needed the toilet and then run away."
In November 2006, Mandy was sentenced to eight weeks in jail at the Magistrates Court for failing to stop both Michael and Neil from Truanting. Michael returned to classes briefly before starting to play truant again and, a year later, Mandy was back in prison. Despite Mandy receiving a third jail term in July 2008, Michael hadn't been to a lesson in over two years, and missed his GCSEs.
"I tried everything to get Michael to go, even dragging him there despite my arthritis, but I just couldn't control him. I was absolutely devastated when the judge branded me an unfit mum because my children wouldn't go to school."
Desperate Times
"Whilst I was in prison, Michael started stealing alcohol from his older sister and binge drinking. He says the reason was because he felt guilty about me being in prison and alcohol helped him to forget everything."
When Mandy was freed after four weeks, Michael finally agreed to attend school. Within a month, he was truanting and Mandy was threatened with prison again.
"I begged him to go to school as I really didn't want to go to prison again, but he didn't believe I would and didn't want to go in to school again. I was desperate to avoid court and tried bribing him with treats, poured water over him to force him out of bed and physically dragged him to school, but nothing worked. Even a truancy officer who visited to escort Michael to school failed to get him out of the locked bathroom."
In November 2008, Mandy was jailed for another eight weeks and she was furious with her son. Incredibly, after Mandy's release from prison, Michael still refused to attend and, in July 2009, she served another four weeks. Michael admitted that he didn't care that his mum was in prison because of his actions, as he blamed the school.
A month later, Michael was taken off the school roll and no longer had to go to classes as they realised that all their efforts were not working.
Turning to Alcohol
"Since then, Michael's alcohol intake has escalated and he now drinks up to 12 litres of alcohol per day. While his classmates sat their GCSEs, he was getting arrested for drunk and disorderly behaviour, fighting and smashing windows. He was recently convicted of being drunk and disorderly. He denies being an alcoholic, but admits he can't stop drinking and is having alcohol counselling."
"I find it heartbreaking that my son has got a drink problem at 16, and I feel I've failed him as a mother because I was in prison and couldn't be there for him when he needed me."
Regrets
Ironically, now that Michael is old enough to work, he said, "I now regret not having an education and wish that I'd have stuck at school so that I would now be able to get a good job and support my girlfriend."
You might also like...