Selling Dangerous Substances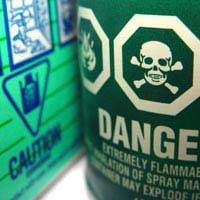 As many of us are already aware, it is illegal to sell so-called dangerous substances to minors. Unfortunately, there are still a number of shopkeepers within the UK who flout this law and continue to sell such substances to children who are below the recommended legal age.
But what constitutes a dangerous substance and what are the legal ramifications for selling them to minors?
What is a Dangerous Substance?
In legal terms, a dangerous substance is any substance that can be ingested, inhaled, swallowed or applied to the skin. Such substances are readily available over the counters of many retail outlets to individuals over the age of 18.
Here is a list of readily available items that are considered to be dangerous substances:
Nail varnish
Correction Fluid
Glue
Acid
Corrosives
Paint Thinner
Industrial Strength Alcohol
Explosive Powder (Fireworks)
Non Prescriptive Medication
Many of the aforementioned substances can be purchased from most high street retailers, builders merchants, chemists and outlets specialising in the sale of artistic materials.
Proof of Identity and Age
Proof of identity and age is required by law to buy any of the items listed. Any retailer or shopkeeper in doubt of a potential customer's age should ask for proof of identity or refuse to allow the transaction to take place if the ID is not presented.
Tell-Tale Signs of Underage Shoppers
More often than not it is young boys or teenage boys who are more likely to attempt to buy these illegal substances, and retailers should be aware of some of the scams and rouses they use. Be aware of groups of youths entering your shop. Invariably one will try to make a purchase while the others will attempt to create a distraction. It is not unknown for a shopkeeper to sell to a minor while they are concentrating on the actions of others on their premises.
Exercise caution if an individual wearing a baseball cap or hooded top tries to make a purchase of a dangerous substance. Many teenage boys use baseball caps and so-called hoodies as a way of disguising their identity.
Be mindful of older individuals trying to buy a dangerous substance within a few moments of a failed attempt by a minor. It is not unheard of for a minor to ask an older individual to make a purchase on their behalf. If you are in any doubt, refuse to sell it to them, too.
Fines for Retailers
As a shopkeeper or retailer you should be aware of the hefty fines imposed by local authorities for the sale of dangerous substances to underage clientele. If you suspect any potential customer is underage, exercise your right to ask for identification and refuse to make a sale if they cannot provide it.
If you are in any doubt, contact your local Trading Standards authority who will be able to provide you with a list of what identification is acceptable and also contact your local police station.
You might also like...