Public Nuisance Offences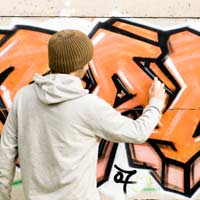 Public Nuisance Offences are offences committed – normally by minors – that cause a disturbance of the peace, damage to private or public property and deemed to represent anti-social behaviour. Such offences are often committed by groups of children who are to be found loitering in and around housing estates and areas where there is little in the way of recreational stimulation. Some of the offences that constitute Public Nuisance Offences include:
Playing loud music
Playing ball games late at night
Graffiti
Vandalism
Damage to motor vehicles
Racial abuse
Verbal Abuse
Trespass
Dispersal Orders
In the event that such offences are regularly taking place within a specific area, the police – in conjunction with local council – can issue what is known as a Dispersal Order. This order basically acts as a curfew and enables the police to stop and question any individual thought to be of a particular age group without probable cause.
Dispersal Orders also offer the police the right to ask the individual where they have been, what they have been doing, and who they have been with. Failure to answer these questions satisfactorily can result in the police removing the individual from the area and detaining them in a holding cell, while attempts are made to contact their parents.
If an offence has been reported in that area, and the individual is suspected as being one of those involved, he or she may be detained until an appropriate adult can be contacted.
Acceptable Behaviour Contracts
If a minor has been detained or found to have been responsible for the committing of a Public Nuisance Offence, they can be offered the opportunity of voluntarily agreeing to an
Acceptable Behaviour Contract (ABC)
. This contract is signed by both the individual in question and their parents, and an agreement is entered into by these parties and the police and
Youth Offending Team
.
This ABC may include details of a curfew or exclusion request which, if agreed to, means that the individual involved cannot be in a particular place after a designated time, or simply cannot be in that area at all.
Anti-Social Behaviour Orders
Anti-Social Behaviour Orders (ASBOs)
are issued by a magistrate. If the individual responsible is not of an age where they can be sentenced to a custodial sentence, then the magistrate may issue an ASBO which will detail a list of things they must not do for the duration of the order.
An ASBO may detail curfew times, areas that the offender should avoid, as well as ordering the individual involved to pay damages and/or undergo a period of counselling or rehabilitation.
However, unlike an ABC, an ASBO is a legally binding order issued by the courts. As such, breaching the conditions of an ASBO may result in further criminal proceedings and/or sentencing to a Young Offenders Institution.
You might also like...