Do I Have to Bring My Daughter Back?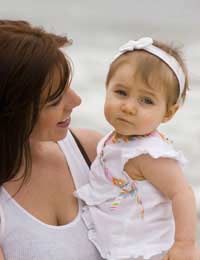 Q.
I married a man from the UK and we now have a little girl (all of us reside in England). My husband told us to go to the States so he could clear his head. While there, he sent a text message telling us not to come back, ever!
My husband and I are not divorced nor have a separation agreement. He now wants to take my little girl away from me. Do I legally have to bring my daughter back? Hope you can advise.
(Mrs NW, 18 September 2008)

A.
It sounds as if you're originally from the United States originally (it would seem to be the only reason your husband might send you and your daughter there). From his text message, it would appear that he believed the marriage was over and that he wanted to have no contact with you or your daughter, even though there's no legal separation agreement.
However, now he appears to have changed his mind with regards to your daughter. Do you have written proof or any kind of corroboration that he told you to go to the US with your daughter? If so, gather it, otherwise he might try to claim that you took her away from him (although the US is one of many countries that has an agreement with the UK to help with the recovery of abducted children).
As a married couple, you have joint Parental Responsibility for your daughter. However, if you or your husband files for divorce, as would appear likely from your letter, then you'll decide upon residency. If you can't come to an amicable agreement, it can be worked out through a mediator so you can present the court with what's known as a Statement of Arrangements, which sets out where the child will live and with whom, how often the other parent will have access, etc.
The court has to ratify that Residency Arrangement, and it will take several factors into account, the biggest one being the child's welfare. One thing that could count against your husband in this instance is the fact that he's already rejected the child once, but other circumstances will count, too – for instance, if you stay with your daughter in the US, what impact will that geographical and cultural change have on her?
Everything becomes more complex because it appears to be playing out over two countries – the US and the UK – with two different legal systems, although you indicate that any legal process has been started. The very best thing you can do is talk to an attorney who's familiar with family law on both sides on the Atlantic. They will be able to offer you proper advice.
You might also like...
My story was only part shown . It got worse .
corsican
- 15-Nov-18 @ 6:07 PM
@Deb. You'd need to get this checked out by a legal professional. Nowadays this would suggest that the your father was not your natural father as an adoption would not be required. However back in the 70s things may have been different. Sorry we can't give any more conclusive advice. Other readers in this situation may also be interestedin this so do come back and let us know what you find out.
LawAndParents
- 8-Jun-15 @ 11:48 AM
In 1974 I had a legal name change by my parents to my Dads Last name. I never thought anything of it, as most kids Don't. I recently came across the name change Docs in some old papers of my parents and there was an adoption form signed by my Dad. Is it possible I was adopted or was this just the process for legal name changes back then.? My parents were not married when I was born but married 5 years later when my sister was born and she automatically took my dads name. Just seems kind of Odd Don't you think? No living relatives to ask.
@Names. This is a tricky one as you have given false information at the time of registering the birth. The natural father could insist on having the birth certificate amended to reflect this (a DNA test is required).
LawAndParents
- 27-Jan-15 @ 12:03 PM
Been with my partner for 16 years we got 4 kids n she had another baby to someone eles they did not last long we got back together while she was pregnant I was there for the birth I agree to be the farther n put my name as the farther on the birth certificate now the reel farther is apart of his life n wants to change his first n last name to his wat rights do I have I love this kid as my own ? Can he change it with me or my partner
Names
- 25-Jan-15 @ 1:05 AM